RADIO DIRECTION FINDING ACCESSORIES

RDF Products offers various radio direction finding accessories that can facilitate improved radio direction finding system installation, operation, testing, troubleshooting, and performance verification. Major accessories are briefly described below:
| | |
| --- | --- |
| | DGP-16HV - The DGP-16HV is a high sensitivity GPS sensor module for mobile DF stations employing the HuntMASTER digital mapping and location software. This unit reports the Lat/Lon coordinates necessary for HuntMASTER to establish the mobile DF station on its digital moving map display. |
| | DTC-610 Transit Case - The DTC-610 is a rugged, compact transit case designed to transport and store a mobile DF system comprising a DFP-1000A or DFP-1010 DF processor, a companion host receiver, a mobile DF antenna, and miscellaneous accessories. The unit contains resilient protective foam inserts with custom cut-outs. |
| | DTI-100B DF Bearing Synthesizer - The DTI-100B is a test accessory designed to facilitate testing, calibration, and performance verification of radio direction finding receivers and bearing processors. The DTI-100B allows convenient testing in an indoor environment. |
Home DF Receivers Mobile DF Antennas Fixed-Site DF Antennas DF Applications Literature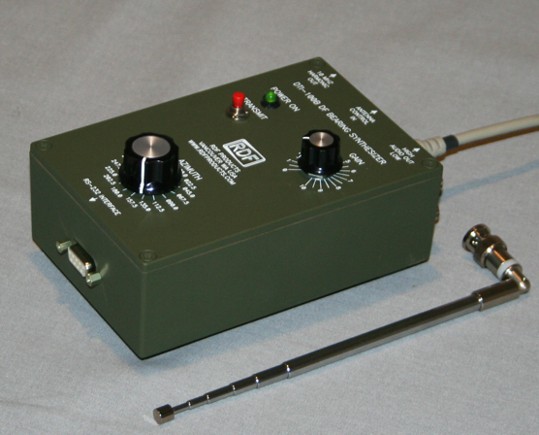 DTI-100B DF Bearing Synthesizer

AN-001 - A User's Guide: How To Shop For A Radio Direction Finding System. A "must read" for the serious DF system user. This Application Note helps the prospective buyer untangle the mysteries of the DF equipment selection process so that informed and cost-effective purchasing decisions can be made. Topics include budgetary considerations, fundamental DF system configurations, mobile versus fixed-site DF systems, attributes of professional-quality DF systems, plus evaluating and dealing with the DF equipment vendor. In PDF format.
Home DF Receivers Mobile DF Antennas Fixed-Site DF Antennas DF Applications Literature